Formation aux métiers du maraîchage et de la fruiticulture en circuit-court sur Ecolys®
Ces dernières années, les secteurs du maraichage, de l'agriculture urbaine et des circuits courts alimentaires sont en forte croissance et nécessitent beaucoup de main d'œuvre. Pourtant, seulement 20% des jeunes ayant suivi une formation en maraichage obtiennent un emploi dans ces domaines. La cause ? La pénurie de main d'œuvre et le manque d'accès aux terres.
Côté Namurois, le BEP, le CPAS de Namur, le Forem, la Coopérative Paysans-Artisans et la mission wallonne des secteurs verts se sont associés pour organiser une formation d'ouvriers maraîchers / fruiticulteurs dans le cadre du projet IMAGINE.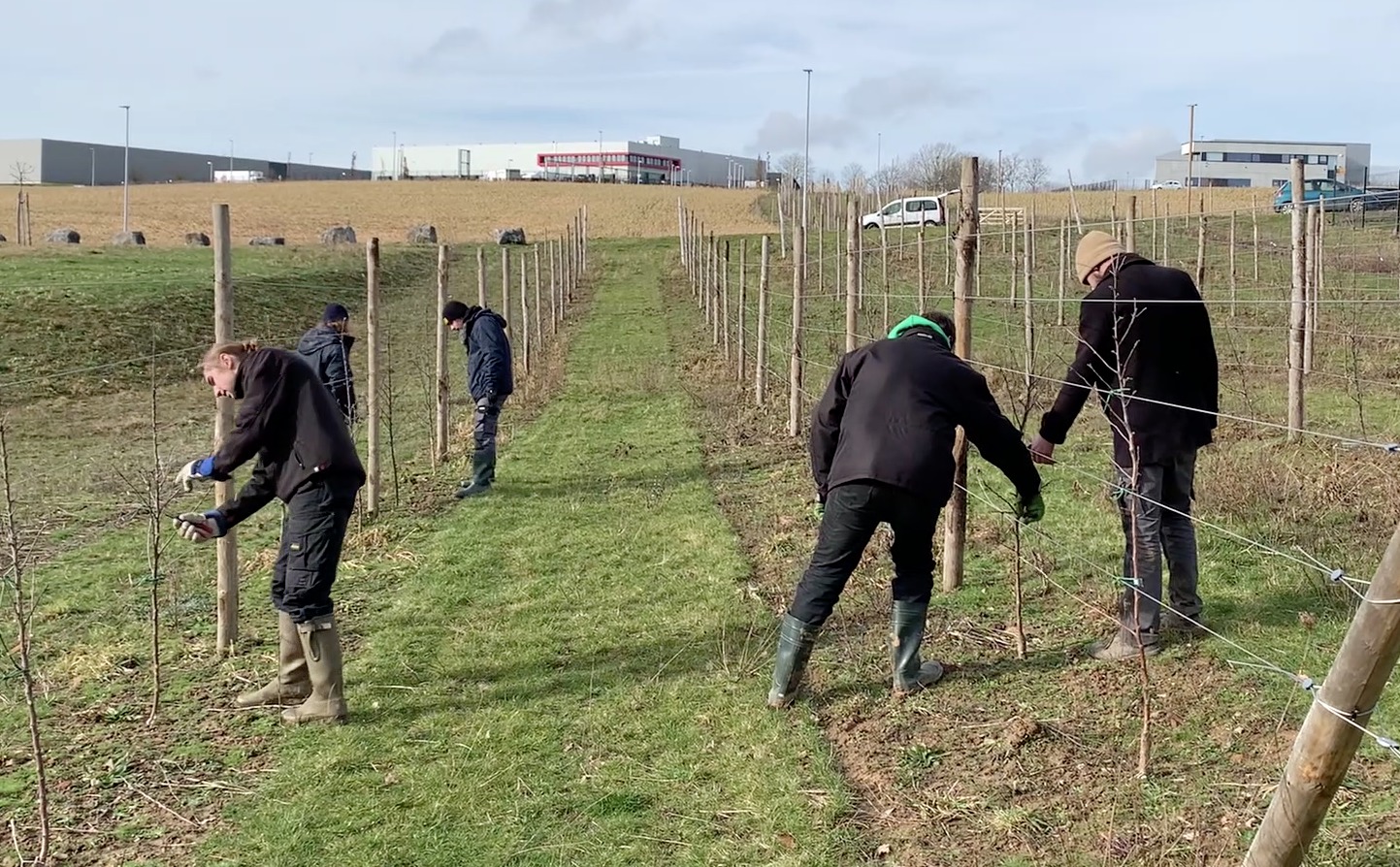 Une formation pratique
Les 5 et 19 février derniers, les jeunes apprentis se sont rendus sur les terrains mis à disposition par le BEP sur le parc d'activité économique Ecolys®. Ils se sont essayés à la taille des fruitiers exploités par Paysans-Artisans.
Ces deux journées de formation s'inscrivent dans une formation plus globale, coordonnée par Paysans-Artisans, d'une durée d'un an : les jeunes ouvriers maraichers fruiticulteurs apprennent directement chez les producteurs locaux (9 jours sur 10) et en formation collective (1 jour sur 10).
L'objectif de cette formation est double :
d'une part, résorber les pénuries d'emploi dans les secteurs en croissance du maraichage et de la fruiticulture, tout en favorisant l'insertion professionnelle des jeunes ;
d'autre part, utiliser et valoriser les terres dormantes et non-commercialisées des communes et autres autorités locales.
Au terme de la formation, le stagiaire peut espérer trouver un emploi d'ouvrier auprès d'un maraîcher, d'un fruiticulteur, d'un Groupement d'Employeurs, d'un service Espaces Verts d'une commune… S'il le souhaite, il pourra aussi bénéficier d'un accompagnement pour s'installer comme indépendant.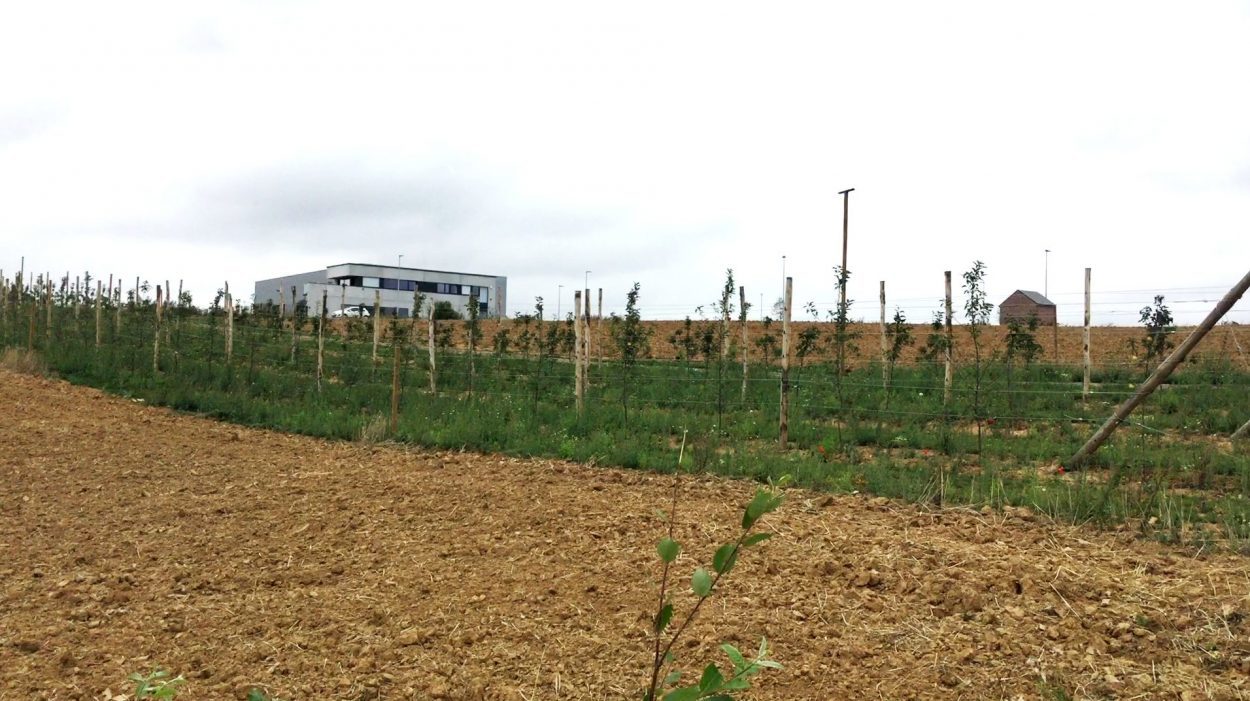 Rôle du BEP
En Province de Namur, 16% des jeunes ne sont pas scolarisés, sans formation ou sans emploi. Le secteur de l'agriculture urbaine lié aux circuits courts est, quant à lui, en pleine expansion et demandeur d'une main d'oeuvre peu qualifiée, tout en étant confronté à un manque d'accès aux terres. Dans ce contexte, le BEP a décidé de valoriser les espaces inoccupés sur ses parcs d'activités économiques (zones « tampons » entre les entreprises des parcs) et de les mettre à disposition d'exploitation fruitière.
Cette décision s'intègre dans une réflexion environnementale pour la gestion des parcs d'activité économique. Ainsi, le BEP a réalisé des aménagements verts dans les parcs Ecolys®, Créalys®, la Houssaie, Mecalys® et celui de Beauraing. Sur Ecolys®, le BEP a dédicacé une zone non constructible du parc à une production végétale (350 pommiers et 180 poiriers) de 40 ares, exploitée par la coopérative Paysans-Artisans.
Ces zones foncières inoccupées ou inutilisables à l'heure actuelle se prêtent au maraichage et pourraient devenir des moteurs de création d'emploi et d'innovation sociale. À terme, si ce modèle fait ses preuves, le BEP pourrait même accompagner les communes intéressées dans la mise en place de ce schéma sur leurs terrains dormants.
Par ailleurs, le BEP permettra également aux jeunes formés qui le souhaitent de disposer d'une zone test sur ses parcs d'activité économique pour démarrer leur activité en tant qu'entrepreneurs.
Le partenariat Namurois
Le BEP met à disposition ses terrains inexploités et coordonne la mise au point de l'initiative-pilote en région namuroise, structurée autour d'un partenariat local avec :
La coopérative Paysans-Artisans – en charge de coordonner la formation « maraîchage/fruiticulture » des jeunes ;
Le CPAS de Namur – en charge de la sélection des jeunes et de leur suivi ;
Le Forem – en charge des réflexions sur le parcours de formation, de la certification et de la réinsertion des jeunes sur le marché de l'emploi ;
La Mission wallonne des secteurs verts – apporte son soutien dans le cadre des formations collectives.
Afficher l'information dans sa langue d'origine : English
Training in market gardening and fruit growing in short circuits on Ecolys®
In the last few years, the market gardening, urban agriculture and short food supply chains have been growing strongly and require considerable low-skilled labour. However, only 20% of young people who have received training in market gardening get a job in these fields. The cause ? Labor shortage and lack of access to land.
On the Namur side, the BEP, the CPAS de Namur, the Forem, the Coopérative Paysans-Artisans and the Mission Wallonne des secteurs verts have joined forces to organize training for market gardeners / fruit growers as part of the IMAGINE project.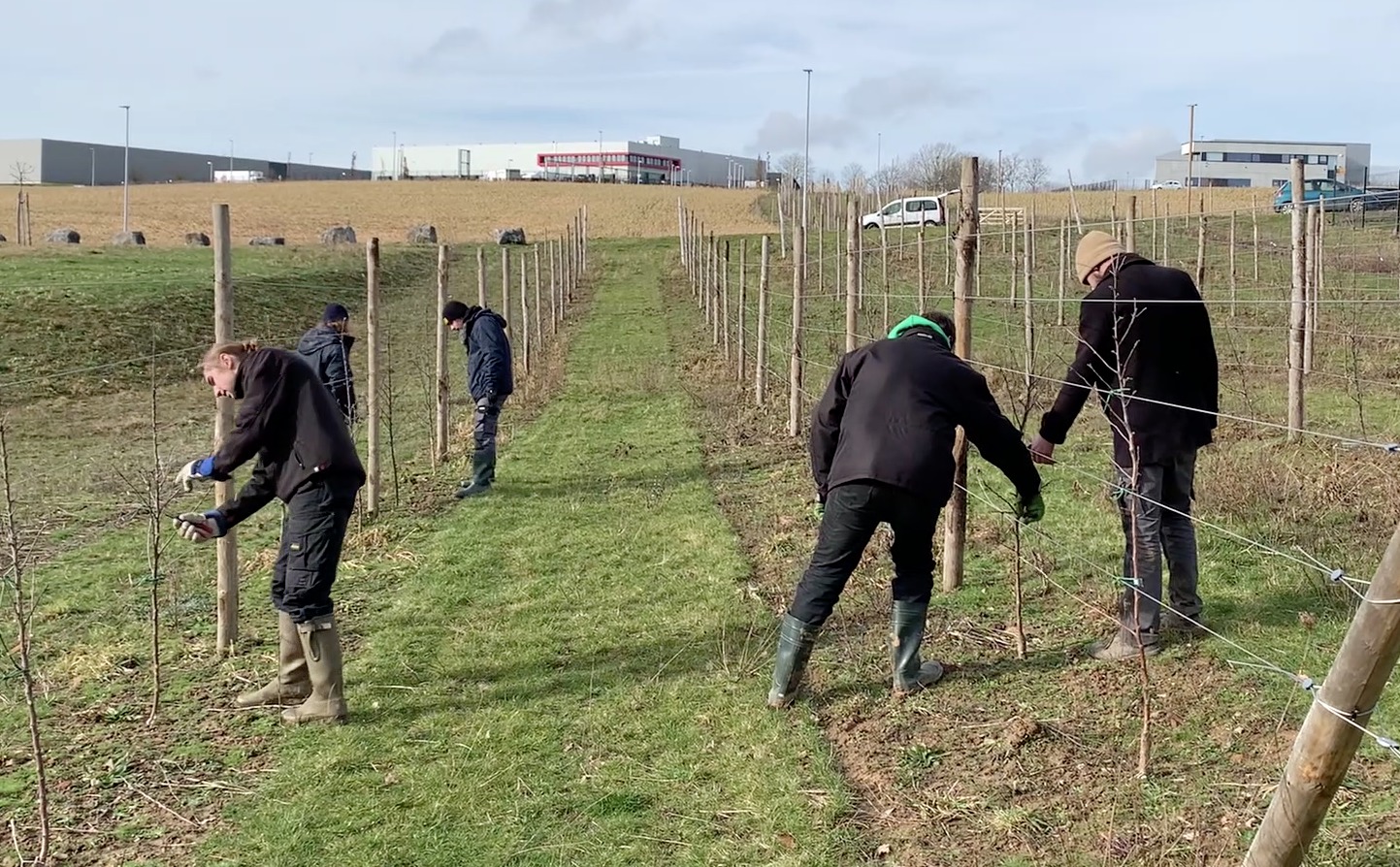 Practical Training
On february 5th and 19th, 2021, the young trainees went to the land made available by the BEP on the Ecolys® business park. They learned the pruning the fruit trees exploited by Paysans-Artisans.
These two days of training are part of a more global training of one year, coordinated by Paysans-Artisans : the young people learn directly from local producers (9 days out of 10) and through collective training (1 day out of 10).
The objective of this training is twofold :
At first, to reduce job shortages in the growing sectors of market gardening and fruit growing, while promoting the professional integration of young people ;
Secondly, to use and develop the dormant and non-commercialized lands of municipalities and other local authorities.
At the end of the training, the trainee can expect to find a job as a worker with a market gardener, a fruit grower, an Employers' Group, a Green Space service in a municipality, etc. He will also be able to benefit from support to set up as a self-employed person, if he wishes to do so.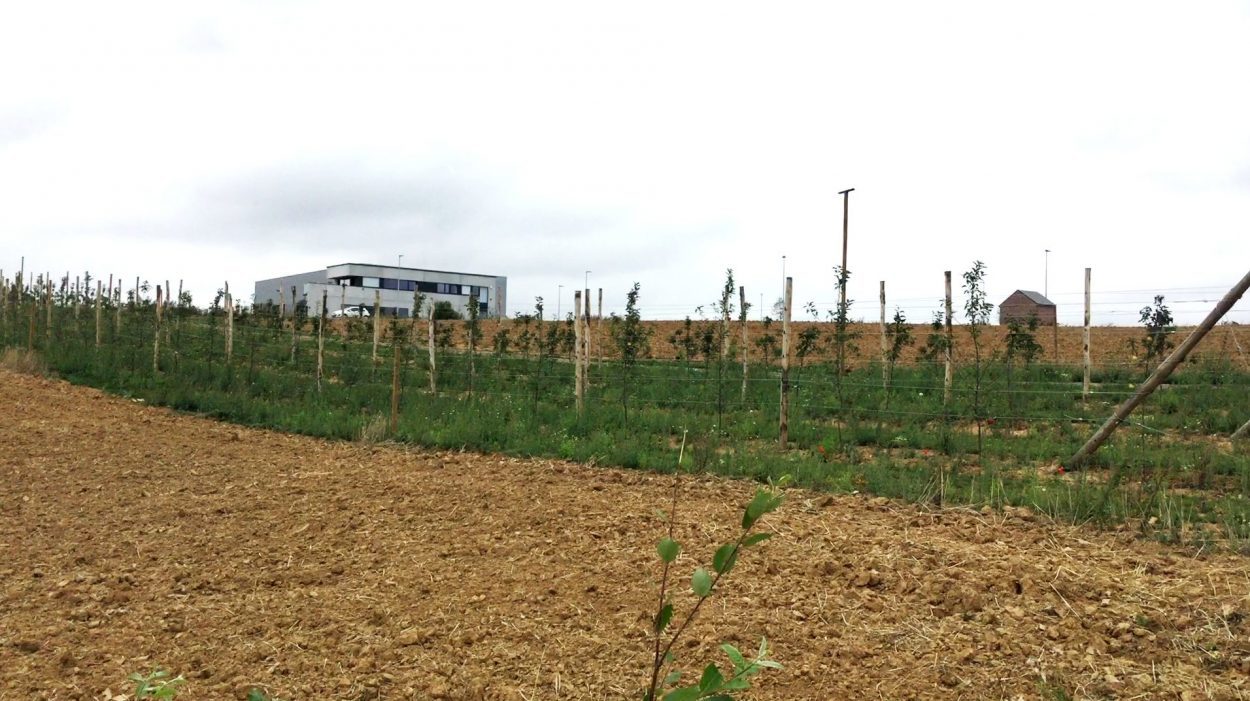 Role of the BEP
In the Province of Namur, 16% of young people do not go to school, are not in training or are unemployed. The urban agriculture sector linked to short circuits is, for its part, expanding rapidly and is asking for a low-skilled workforce, while facing a lack of access to land. In this context, the BEP has decided to make use of the unoccupied spaces in its business parks ("buffer" zones between the companies in the parks) and to make them available for fruit exploitation.
This decision is part of an environmental thinking for the management of business parks. Thus, the BEP carried out green works in the Ecolys®, Créalys®, La Houssaie, Mecalys® and Beauraing parks. On Ecolys®, the BEP dedicated a non-building area of ​​the park to a plant production (350 apple trees and 180 pear trees) of 40 ares, exploited by Paysans-Artisans cooperative.
These currently unoccupied or unusable land areas are suitable for market gardening and could become drivers of job creation and social innovation. In the long term, if this model proves its worth, the BEP could even support the municipalities concerned in the implementation of this scheme on their dormant land.
In addition, the BEP will also allow support young people who wish, to have a test area in business parks to start their own activity.
The local partnership in Namur
The BEP makes its unexploited land available and coordinates the development of the pilot model in the region of Namur in a local partnership with :
The Coopérative Paysans-Artisans - in charge of coordinating the "market gardening / fruit growing" training for young people ;
The CPAS de Namur - in charge of selecting young people and monitoring them ;
The Forem - in charge of the training path thinking, certification and reintegration of young people into the job market ;
The Mission Wallonne des Secteurs Verts - provides support in the co-production of collective training sessions.